Our customers do business with us because we offer a superior combination of quality, price, service, and value.
We know the customer is the most important person in our relationship. They know we are constantly thinking of ways to help them compete in the marketplace. You could say our product is service. That is what brings us together. The fact that we care and will do everything we can to help our customers be successful, is why they stay with Hastings Machine Company.
Using only first quality materials, HMC's talented and experienced employees produce superior quality products from a full range of carbon steel, brass, stainless steel, ductile cast, and select polymers. Hastings precision machined products can be found throughout the world, assembled in various end products and applications within the mining, construction, infrastructure, aftermarket automotive, defense and gas industries.
Our diversity and wide range of capabilities supports economical, superior-quality production of turned parts in any volume. Whether your order is for r&d samples or large production requirements, HMC will provide the personalized attention you deserve.
Supportive Relationships and Long Lasting Friendships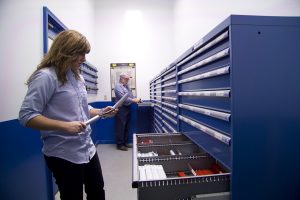 Hastings Machine Company offers a supportive business-to-business relationship upon which many long lasting friendships have developed and grown. We are big enough to handle your most demanding production needs and small enough to remain personal and easily accessible. Our volume capabilities range from development test parts to millions of production pieces. A friendly, warm and understanding person is ready, willing, and able to answer your call.
HMC was founded in 1975 by our corporate parent Laurel Holdings, Inc. of Johnstown, PA. Beginning life as a machine shop focused upon making parts for envelope production machines; we've diversified with our markets and grown into a high volume producer of products for markets including, but not limited to: Fossil Fuels, Renewable Energies, Heavy Transportation, Infrastructure Construction, Oil and Gas, and Automotive.
Superior Quality Products and Exceptional Service
We provide our customers with superior quality machined products, exceptional service, and quick response times. Hastings will manage the manufacturing process through quote, value added engineering, and production, to deliver product above expectation. We are dedicated to growing long-term customer relationships and manufacturing partnerships, with a focus on improving the value of delivered products and services.
Our greatest compliments are the decades long relations and friendships we have developed with many of our customers. Building mutually beneficial relationships with our customers based upon superior customer service is Hastings' highest goal. (see our Ten Commandments of Customer Service)
Shorter Lead Times and Lower Costs
Our practice of Kanban inventory management provides customer benefit through shorter lead times and lower inventory costs. Our technical capabilities and operational efficiencies support faster to-market product entry and greater reliability of end-use performance, built upon a base of:
Pride-driven work ethic
Exceptional focus on quality, service, and value
Process ownership
Relationships with customers and suppliers that reach beyond the typical transaction base, producing long-term, progressively increased benefit.
Three daily production shifts of availability
Low operating costs
Short lead times
Easy accessibility to the folks you need to reach
Peer contact relationships
Exceptional raw material purchasing power